WNCC students learn about the world during travels to Costa Rica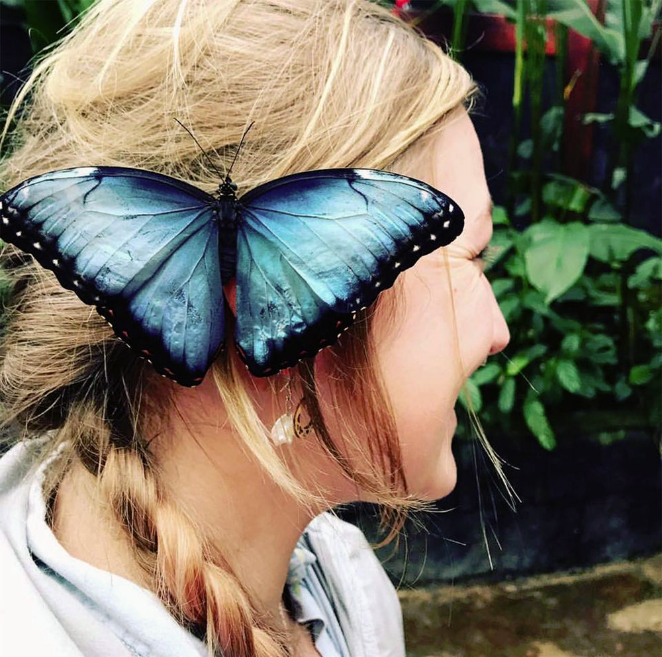 welve adventurous students traveled to Costa Rica recently to immerse themselves in the language and culture of the country.
Every other year, Western Nebraska Community College (WNCC) hosts a trip to a Spanish speaking country for students. Students immerse themselves in the language and life of their host country. They spend four hours a day in class learning Spanish and stay with host families where they must also speak Spanish to communicate.
From May 19 to June 4, 12 students learned the language, culture and history of Costa Rica.
For Erica Croft, it was her first time leaving the country. She enjoyed every aspect of the trip.
"It was a good way to not only get to know the language and culture, but what they eat, how they live and what they do in their spare time," Croft said.
Croft is a second grade teacher and hadn't spoken Spanish since high school, but found herself remembering the language while she was there. Whether she was with a fluent speaker or not, she found a way to get her point across and communicate with others.
During the trip, Croft arranged to speak with her incoming students via Skype where they played a game, "Where in the World is Mrs. Croft?" to teach the students about Costa Rica.
Since 1998, Stacy Wilson, foreign language instructor at WNCC, has organized trips to Costa Rica, Ecuador, Guatemala, Mexico, Peru and Spain. This year, she wanted to take the students to Argentina, but the prices were prohibitive.
"When I told the students the price, everyone had a little heart attack," Wilson said.
Some funding for the trip comes from grant money from the college as well as the WNCC Foundation.
"Their goal is the same as my goal — to broaden cultural horizons and give students access and experience in a different culture and different language to help them better understand the world outside of Nebraska," Wilson said. "The college and the foundation are in tune with that."
The idea for the trips began after Wilson realized her study abroad trips shouldn't be done alone. She had spent two years in France before becoming a teacher and spent time in Mexico after beginning teaching. She felt the need to do it personally and professionally so she would know what she was talking about in her classroom.
Although Grace Garza experienced some culture shock, she embraced the Costa Rican motto of "pure life" and to enjoy life and not stress out too much. The trip may have been short, but she made new friends.
"The people I went with made it a lot of fun," Garza said.
Juan Garfio is already fluent in Spanish. His focus on the trip was to learn more about the background of Costa Rica and its literature.
"That, to me, was fascinating since I didn't know much about the grammar and literature of the language," Garfio said.
From an organizational standpoint, Croft said there were no problems with any part of the trip, which allowed her the time needed to learn without worrying about logistical problems.
Students spent time in two schools. Garfio said the first teacher was laid back and let students try to teach themselves. She also gave them critical thinking questions. The second teacher was more strict, but his style was more helpful for Garfio.
"He would make us teach the class and ask 'What do you think about this and what do you think about that,'" Garfio said. "That would go into his whole plan for the week and at the end of the week, he would say, 'This is how it all fits in to literature.'"
In addition to classroom work, students had excursions to learn more about the country. Costa Rica stresses ecotourism, so they promote outdoor activities, nature and wildlife. Students went bird watching, hiking in the rain forest, visited a toucan and sloth rescue ranch. Wilson said the baby sloth is the cutest thing she has ever seen.
Students also went hiking, sea kayaking, snorkeling, swam in the ocean and ziplined in the rain forest.
On a tour of a coffee plantation, they learned how coffee is grown, harvested and processed. They were also taught the difference between light and strong coffee.
Wilson said they also experienced raccoons and Capuchin monkeys who attempted to steal items from their backpacks at the beach.
"We had to fight the monkeys off from stealing our stuff," Croft said.
The only minor setbacks were a few students who were stung by jellyfish, but the reactions were not serious and everyone said they had fun overall.
"It was such a great experience, northing negative happened," Croft said. "It was a great way to get my feet wet and realize how interesting and complicated it can be to travel."
Croft's most memorable moment was snorkeling, something she'd never done before and ziplining in the pouring rain through the rain forest. She plans to continue to improve her Spanish in her work as a teacher to better communicate with her students' parents.
One thing everyone was not used to was the humidity. There is little to no air conditioning in Costa Rica and the humidity was at 80-85 percent.
"By the afternoon, everyone wanted to get in the water," Wilson said. "We would see people in jeans at night walking downtown and we'd be dying."
Garfio said even though it was hot and humid, it was a good experience to see how another country functions and operates.
It was an amazing experience," Garfio said. "If had the chance and the money, I would love to travel again."